Global Mental Health: Transdisciplinary Perspectives
The Global Mental Health Symposium: Transdisciplinary Perspectives was held at Georgetown University on April 17th, 2016. The event brought together nationally and internationally renowned scholars to discuss the role of mental health in global development. The symposium consisted of four panels, two of which featured CGMH professors.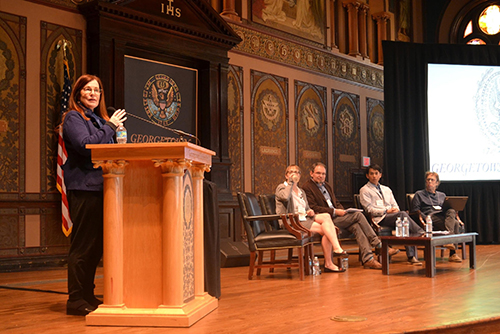 Professor Jenkins speaking as Panel Chair
Professor Janis Jenkins of UCSD Departments of Anthropology and Psychiatry was Panel Chair for "How Do We Conceptualize Mental Health?".
Professor Thomas Csordas, Chair of the Department of Anthropology and Co-Director of the UCSD Global Health Institute, spoke as an opening panelist on "Context and Mental Health: Culture, Poverty, and Religion".
The event was concluded by Dr. Arthur Kleinman of Harvard University.
Links to Access the Audio From the Symposium